Cash Management Safes
Take control of your cash flow
Peace of Mind Accepting and Dispensing Cash
Cash management safes, or a cash dispensers, are high-end safes intended for regular use. As the name suggests, it is capable of accepting and dispensing cash at will, much like an ATM.
Benefits of a Cash Management Safe
Cash management safes also serve as calculator for your business. These small, in-store banks come equipped with color console screen that allows you to control the recording and reconciling of cash deposits. You can program your employees into the machine and track how much money they put in and took out; providing increased security and greater accountability. Cash can also be validated and checked for counterfeit purposes. This means no more losing money from counterfeit bills.
These pieces of equipment offer a user-friendly software suite that provides a complete application for cash management with full accountability and auditing features of all system activity.
As an authorized dealer of Tidel Quality Cash Solutions, Accent Equipment Company can help running the accounting side of your business easier.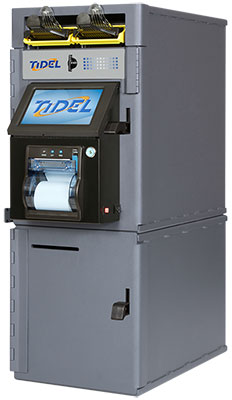 Tidel Series 3
Suited for low to moderate cash volume
organizations
Tidel Series 4
Increased levels of usability, convenience, and serviceability,
TACC VI
The latest addition to our TACC product line.